Planning a kids birthday party in York but don't know where to start? Our Ultimate Guide to Planning a Children's Party in York is crammed full of helpful tips, advice and services in York to make sure your party is one to remember!
Use the list of links below to jump to a section in our Party Guide, or read the whole post and become a party planning expert! 🥳
---
Party Planning Checklist ✅
Planning a kids party may seem like a daunting prospect. You can go easy on yourself (and pay someone else to do it all!) or be as elaborate as your imagination, free time and creativity allow. If you're not sure where to start when planning your child's party, follow our checklist below to ensure it is stressfree and organised.
1. Set a budget for the party 
First, decide how much you want to spend as this will help you decide what to do and how many people to invite.
2. Involve your child in the planning 
Get some ideas from your child as to what they would like to do or where to go or what theme they would like. They might need reining in or adapting but it is their party after all.
3. Pick a date
Decide if you want the party to be the weekend before or after the birthday or after school. Do you want certain people to be there, like grandparents? Check they are free first!
4. Decide on the venue 
Are you going for a full party provider, where all you need to do is turn up and bring a cake? Or hire a venue and book an entertainer or go fully DIY and plan the party games yourself? Or host something at home?
5. Decide on a theme
If you are doing more of a DIY party, then why not pick a theme. What does your child love, but won't be too difficult to pull off and have you up all night trying to copy ideas you've seen on Pinterest!
6. Pre-book for your ideal date
Book the party venue or hire the hall. If you are hosting your own party rent any equipment like a bouncy castle or book an entertainer or activities provider.
7. Write your guest list 
Based on your budget and any minimum numbers a venue may specify, write your guest list with your child's help.
8. Send the invitations 
Send out the invitations. No time to write them all or want to save some money? Why not set up a WhatsApp Group for the party and invite people that way? It's also a great way to share photos and thank people for coming along.
9. Plan the food
Once you know how many people are attending you can decide on what to do for the party meal, unless the venue includes the food in your package. Find out if you'll need plates and cups so you can get or hire those too.
10. Sort the birthday cake
Don't forget to order or make a cake, which might need to tie in with your chosen theme!
11. Get any decorations
Check with your venue if you can put up your own decorations or if you are hiring a hall, think about how you want it to look.
12. Organise party bags 
Definitely an optional step but a nice gesture nevertheless.
---
Party Providers 🥳
If you want a hassle-free party with the minimum effort then you are spoilt for choice in York. From Woodland Adventure Parties to Film Parties at City Screen or a Roller Disco to the Chocolate Story, the hardest part of planning your party is deciding what to do! You can find a full list of all the party providers in and around York on York Mumbler.
Here are some party venues that come highly recommended by Mumblers:
Creepy Crawlies Parties
All parties (except Wired and Summit) include:
Private, decorated birthday room for ½ an hour
Buffet & drink
Party invitations
Sweet bag
Free adult entry with an adult table reserved for up to 6 adults
At least 1 ½ hours of playtime
"My daughter had her birthday party at Creepy Crawlies and it was fantastic everything was provided apart from the cake and even tho the party is for 2 hours you can stay as long as you want afterwards."
DIG Birthday Parties
All parties include:
Your costumed Viking host
Exclusive use of the mezzanine level and activity room at DIG
Dig pits, archaeologist talk, shield-making craft and battle workshop
Viking helmet hats, party plates, drinking goblets and tableware
Viking selfie photo frame and props
"DIG is good and easy for us parents as you don't have to do anything."

Find out even more about DIG parties in our Mumbler Review.
Energi Trampoline Parties
All parties include:
Energi trampoline socks for every guest
Hour's use of the trampoline park
Private room for party food, drinks and ice cream
Party room includes a TV & sound system so you can play your own tunes
"We had one there last month and it was really good. Well organised and no hassle."
All parties include:
Time in the dedicated Lego playroom with mosaic walls, brick put and Lego table
Organised games
Birthday boy/girl gets to take home what they have built
Lego prizes
Lego-themed invites
Take your own food & cake (catering not included)
"My son had his 6th birthday party at Minifigs and Bricks in June and it was great all the kids loved it. It's hands on and they gave then little challenges to do. Would definitely recommend."
Rainbow Ceramics Parties
All parties include:
1 hour studio time painting the items you've selected for your group (animals, letters, cupcakes or mugs/plates/bowls)
Food optional extra for £5 per child
"Just had my daughter's 6th birthday there and they were brill!"
---
Party Entertainers 🤡
If you've decided to hire a hall or host the party at home, you might want to outsource the entertainment, so all you need to worry about is the food and cake. There is a brilliant selection of party entertainers listed on the York Mumbler site. There is everything from Storytelling and Craft parties, to Technology in Play and Fairytale and Dance Parties to Speedix Parties where you can roll around in a  giant body Zorb!
Here are some that have been recommended time and time again by Mumblers:
Sam Jones Creative Faces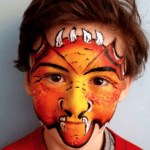 Face painting always goes down well at a party. Sam offers a range of party packages from face painting to glitter tattoos and festival glitter. Suitable for 3+.
"This lady is AMAZING … she does all ours for big events."
Professor Dan specialises in Punch and Judy, magic, balloon modelling and is guaranteed to keep the children entertained!
"Professor Dan was brilliant. I would highly recommend him."
Your party-goers will get to meet lizards, snakes, tortoises, millipedes, frogs, spiders, snails and other small creatures. The totally hands-on show is carried out under expert supervision and tailored to age and your needs.
"The Reptile Roadshow is fab! Christine is great!" 
Offering a mobile disco and bouncy castle for hire!
"DJ Ollie is great. Takes care of all the games and entertainment, music, bubbles etc and can have a bouncy castle too. You just provide the parcel for pass the parcel."
---
Venue & Equipment Hire 🏰
If you decide to pull together your own party or fancy getting someone in to entertain the party-goers, then you might also need a venue or some equipment such as soft play or a photo booth.
There are loads of venues around York that can be hired out by the hour for children's parties and are listed on the Mumbler website.
Generally, you get the use of a hall and kitchen area, but if you also need outside space you might want to check if this is available. Rates vary depending on the venue but for budgeting purposes are approximately £15-25 per hour.
One sure-fire way to keep lots of small children entertained and to burn off all that birthday party excitement is to hire a bouncy castle. All the party equipment you might need to hire is also listed on the Mumbler website.
---
Free or Low-Cost Activities 🎁

If you are planning to host the party yourself or feel you need to pack in even more fun, here are some free or low-cost ideas to keep all the party-goers entertained. Remember a party doesn't need to be complicated or cost you a small fortune. Children really enjoy being with their friends and playing fun games together, so don't put too much pressure on yourself for it to be perfect. 
Musical Statues
Use your phone to play music or take a mini speaker along with you. Download or stream some party tunes and away you go! The hardest part is spotting who was still moving when you stop the music!
Treasure Hunt
Set up a simple treasure hunt around your venue or home. You don't need anything fancy and could use something your child already has. Hid 10 of their teddies or Lego figures – let your imagination go wild. Just take a photo of them all, stick the photos into a document, number each one and print out enough sheets for everyone.
Charades
No explanation needed for this classic. All you need to prepare in advance is a pad of paper & pen and think of a few ideas of words or phrases people need to act out! You could even match the game to the theme of your party. If you don't want it to drag out, use the timer on your phone for each player.
Pass the balloon

Simply blow up a balloon and get the kids in a row then get them to pass the balloon from under their chin to one another without using their hands. Use two balloons, split the kids into two groups and have a race!
Pinata
These always seem to go down very well at parties but do need quite a bit of supervision to make sure the children take turns and nothing but the Pinata gets whacked! Maybe not for the faint-hearted. You can even get a locally handmade Pinata from Pinatas York!
Pass the Parcel
Another one that needs no explanation! You can add to the fun by having more than one parcel or simply fill a zip-up bag with treats if you don't have time to wrap or don't want to waste lots of paper.
---
Party Food Ideas 🍕

At most organised parties where you pay for a full package, party food will be included. However, if you need to take your own party food or are having a DIY party here are some tips and ideas.  
Keep the food simple, the kids won't be expecting a gourmet meal 😂
Ask your party guests if they have any special dietary requirements first
If you are having a large party, you might want to provide the meals in a box so you can do all the preparation in advance and just hand out the boxes on the day
Go for food you know the kids will love and don't worry too much about it being super healthy!

Sausage rolls
Pizza
Sandwiches
Cheese straws
Crisps or popcorn
Vegetable sticks
Fruit kebabs
Fairy cakes
Biscuits

You could always make the food preparation part of the party and gets the kids to decorate their own pizzas or fill their own wraps from a choice of fillings
You can order platters of sandwiches and party food from most supermarkets as long as you order it in advance.
Finally, if you don't want to make the food yourself there are a great range of caterers listed on the Mumbler website. Most providers will organise a party food package for you and even food platters for the grown-ups.
---
Birthday Cakes 🎂
If you are not this year's star baker and don't want to make your own cake, there are lots of cake makers listed on the Mumbler website. Prices depend on the size of the cake, how you want it decorated and if you want it delivered to your venue. 
You don't need to be a great baker to create a brilliant birthday cake. Why not hack a supermarket cake?  Buy a few plain cakes and jazz them up with extra frosting (buy a few tubs of that whilst you are shopping) and cover the sides in sprinkles.
If you are having a large party, consider making or buying cupcakes instead or alongside a smaller cake. It will be easier and quicker to give them all out.
If your birthday boy or girl isn't too keen on cake, then here are some alternative suggestions:
A giant cookie
A doughnut tower
Rice Krispies cake
Whatever you do, don't forget the candles and some matches!
---
Decorations & Party Bags 🎈
From balloons to sweet treats, if you don't want to organise everything yourself, there are plenty of suppliers listed on the Mumbler website who can help you out. If you are looking for an alternative to the usual party bags fillers or want something more eco-friendly and useful, check out our list below. 
A book, perhaps with a handwritten message inside or thank you sticker
Do some simple crafts at your party so the guests can take them home
A packet of seeds to plant & grow
Set up a pick & mix stand with paper bags and let kids help themselves at the end of the party
---
🥳🥳🥳 We hope you found our Birthday Party Guide helpful.
Whatever you decide to do, we hope you have a brilliant and memorable birthday party. 🥳🥳🥳