Planning a kids birthday party in York but don't know where to start? Our Ultimate Guide to Planning a Children's Party in York is crammed full of helpful tips, advice and services in York to make sure your party is one to remember!
Use the list of links below to jump to a section in our Party Guide, or read the whole post and become a party planning expert! Our guide will help you plan the perfect kids birthday party in York! 🥳
---
Party Planning Checklist ✅
Planning a kids party may seem like a daunting prospect. You can go easy on yourself (and pay someone else to do it all!) or be as elaborate as your imagination, free time and creativity allow. If you're not sure where to start when planning your child's party, follow our checklist below to ensure it is stress-free and organised.
1. Set a budget for the party 
First, decide how much you want to spend as this will help you decide what to do and how many people to invite.
2. Involve your child in the planning 
Get some ideas from your child as to what they would like to do or where to go or what theme they would like. They might need reining in or adapting but it is their party after all.
3. Pick a date
Decide if you want the party to be the weekend before or after the birthday or after school. Do you want certain people to be there, like grandparents? Check they are free first!
4. Decide on the venue 
Are you going for a full party provider, where all you need to do is turn up and bring a cake? Or hire a venue and book an entertainer or go fully DIY and plan the party games yourself? Or host something at home?
5. Decide on a theme
If you are doing more of a DIY party, then why not pick a theme. What does your child love, but won't be too difficult to pull off and have you up all night trying to copy ideas you've seen on Pinterest!
6. Pre-book for your ideal date
Book the party venue or hire the hall. If you are hosting your own party rent any equipment like a bouncy castle or book an entertainer or activities provider.
7. Write your guest list 
Based on your budget and any minimum numbers a venue may specify, write your guest list with your child's help.
8. Send the invitations 
Send out the invitations. No time to write them all or want to save some money? Why not set up a WhatsApp Group for the party and invite people that way? It's also a great way to share photos and thank people for coming along.
9. Plan the food
Once you know how many people are attending you can decide on what to do for the party meal, unless the venue includes the food in your package. Find out if you'll need plates and cups so you can get or hire those too.
10. Sort the birthday cake
Don't forget to order or make a cake, which might need to tie in with your chosen theme!
11. Get any decorations
Check with your venue if you can put up your own decorations or if you are hiring a hall, think about how you want it to look.
12. Organise party bags 
Definitely an optional step but a nice gesture nevertheless.
---
Party Providers for kids birthday parties York 🥳
If you want a hassle-free party with the minimum effort then you are spoilt for choice when planning a kids birthday party in York. From Escape Rooms to Fairytale Dance Parties, and LEGO Parties to Trampoling the hardest part of planning your party is deciding what to do! You can find a full list of all the party providers in and around York on York Mumbler.
Here are some party venues that come highly recommended by Mumblers:
Agility Fitness Park Parties
At York's first obstacle course fitness park you can hold a high energy burning kids party!
Parties include:
Fun on the course
Grip socks
Food and drink
Prices start from £13.95pp
Crumbs Cupcakery Parties
Enjoy a party at the very family-friendly Crumbs Cupcakery. You can have a cupcake decorating tea party or enjoy afternoon tea.
Mini hot chocolates, pink milk and mini cupcakes are also available!
Crumbs can also make birthday cakes to order.
DIG Birthday Parties
All parties include:
Your costumed Viking host
Exclusive use of the mezzanine level and activity room at DIG
Dig pits, archaeologist talk, shield-making craft and battle workshop
Viking helmet hats, party plates, drinking goblets and tableware
Viking selfie photo frame and props
"DIG is good and easy for us parents as you don't have to do anything."

Find out even more about DIG parties in our Mumbler Review.
Fairytale & Dance Parties
Enjoy a magical party where you get to live in a fairy tale! With a range of activities including Princess Academy, crafts, fairy hunt and much more!
Packages available include:
The Rose Experience – 45 Minutes
The Emerald Experience – 1 Hour
The Tiara Experience – 1 Hour 30 Minutes
The Glass Slipper Experience – 2 Hour
Forest Quest Parties
Forest parties near Easingwold for a party with a difference!  Two hours of hands-on activities and adventure for up to 10 children aged 6+. Activities include team games, fire lighting and den building.
A Forest Fun party costs £120 and includes a personalised invite for guests, including directions to the forest.  Food is not included, but there is a picnic area available. Parties are usually held on Sunday mornings.
Little Gym York Parties
Based at York Community Stadium at Monks Cross parties include:
The full run of the facility for an hour and a half
Instructor-led games, music & fun activities
Party room set up (you provide snacks/food) – exclusive use of the room
Birthday gift for the child celebrating
Minifigs & Bricks Parties
Have a fun brick party in a dedicated LEGO playroom. With organised games such as tower building and car racing, children are entertained by two dedicated party hosts. LEGO themed invites are also included, so you just need to bring the food and cake.
Prices start from £160 for up to 10 children. Over 10 children an additional cost of £8 per child is applied.
"My son had his 6th birthday party at Minifigs and Bricks in June and it was great all the kids loved it. It's hands on and they gave then little challenges to do. Would definitely recommend."
Point Zero Trampoline Parties
All parties include:
Energi trampoline socks for every guest
Hour's use of the trampoline park
Private room for party food, drinks and ice cream
Party room includes a TV & sound system so you can play your own tunes
"We had one there last month and it was really good. Well organised and no hassle."
Rainbow Ceramics Parties
All parties include:
1 hour studio time painting the items you've selected for your group (animals, letters, cupcakes or mugs/plates/bowls)
"Just had my daughter's 6th birthday there and they were brill!"
Speedkix Parties
If you fancy something completely different book a Speedkix party. Roll around in a giant body Zorb playing bubble football or try Tag Archery or a Nerf War!
Parties can be held at one of Speedkix venues or they can bring the party to you! Suitable for indoors and outdoors.
Tenpin Bowling & Sector 7 Laser Parties
Enjoy a bowling party at Tenpin Clifton Moor. From £8.50 per child which includes 2 hours of bowling, pizza and unlimited squash!
Laser Tag Parties start from £13 per person and include 40 minutes of gameplay and food. Perfect for older kids!
The Web Adventure Park Parties
With four party options to choose from, there is something for everyone at the Web Adventure Park!
Easy Peasy Party: The most informal and no-frills party the Web has to offer. Running only on weekdays (Mon-Fri excluding bank holidays and half terms), this fun-filled party includes a delicious buffet for the children and one free adult per child.
Webtastic Party: Another fantastic after-school option, this is the original party package. The children can play inside or out for an hour and a half, then have half an hour for food.
Fairground Party: Fairground parties are during weekends and school holidays. These fantastic parties include 30 minutes of unlimited rides within the 2-hour party time. Explore inside and out, with an hour and a half to play and half an hour for food.
Laser Party: Laser parties can take place on weekdays and weekends. All the fun of both indoor and outdoor play, plus the extra excitement of having exclusive use of the main play frame for 3 x 10-minute games of laser tag. Suitable for ages 6 years plus.
York's Chocolate Story Parties
A chocolate lovers party which is recommended for children aged 4+. Parties last for 2 hours for a minimum of 12 children, maximum of 20. Accompanied by a guide you will play party games and make chocolate goodies!
Parties can be fully catered or you can bring your own party food and cake along.
---
Party Entertainers for kids' birthday parties York 🤡
If you've decided to hire a hall or host the party at home, you might want to outsource the entertainment, so all you need to worry about is the food and cake. There is a brilliant selection of party entertainers listed on the York Mumbler site. There is everything from face painting to  Storytelling and Craft parties, to a Wizard Walk around York! 
Sam Jones Creative Faces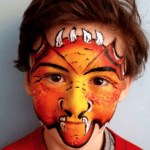 Face painting always goes down well at a party. Sam offers a range of party packages from face painting to glitter tattoos and festival glitter. Suitable for 3+.
"This lady is AMAZING … she does all ours for big events."
Alex Johnson Face Paint York
Add sparkle to your party with face painting! With ombré and glow effects, glitter bar with tattoos and festival jewels!
You can even book a package including the Mobile Airbrush Tattoo Studio!
Experience a unique and memorable party where professional actors and theatre-makers Janet and Cassie bring together drama, storytelling, craft and fun!
Each party is based on an adventure theme that children will love. From Superheroes saving the day to deep-sea rescue missions!
Parties can be delivered in any venue – your home, in a hall or a field!
The Wizard Walk of York 
Enjoy one of the Magic Hatter's Wizard Walks of York for your next party! With 10 years of delivering magical parties, you can now enjoy a private booking of his spellbinding tour.
Wizard wand kits are also available which include a handcrafted wand and instructions for 7 tricks.
---
Venue & Equipment Hire for kids birthday parties in York🏰
If you decide to pull together your own party or fancy getting someone in to entertain the party-goers, then you might also need a venue or some equipment such as soft play or a photo booth.
There are loads of venues around York that can be hired out by the hour for children's parties and are listed on the Mumbler website.
Generally, you get the use of a hall and kitchen area, but if you also need outside space you might want to check if this is available. Rates vary depending on the venue but for budgeting purposes are approximately £15-25 per hour.
One sure-fire way to keep lots of small children entertained and to burn off all that birthday party excitement is to hire a bouncy castle. All the party equipment you might need to hire is also listed on the Mumbler website.
Airbourne Bouncy Castle Hire
Bouncy castles and soft play equipment that is delivered and collected from your venue.
Castles are also available for overnight hire at a small additional cost. Safety mats and rain covers are included. All bouncy castles are covered by Public Liability Insurance.
Offering a range of beautifully decorated 5 metre bell tents and indoor slumber party teepees decorated for your party theme!
Themes include Fortnight, Mine Craft, Alice in Wonderland and Unicorns.
This small family business prides itself on attention to detail and brilliant service!
Ideal for children aged 1-5, you can hire soft play equipment from Tiny Tumblers.
All equipment is delivered and set up for you. With a great range of equipment including a bouncy castle, wind tunnels and soft play bricks.
All equipment is safety checked and your party is fully insured with public liability insurance.
Looking for a different toddler party? Toddler Sense will create a great party with a combination of soft-play equipment, a bouncy castle and tunnels.
There will also be fun activities including music, dancing, giant air balls, balloons and bubbles!
Toddler Sense Parties are perfect for toddlers to have fun in a safe space and explore.
---
Free or Low-Cost Activities 🎁

If you are planning to host the party yourself or feel you need to pack in even more fun, here are some free or low-cost ideas to keep all the party-goers entertained. Remember a party doesn't need to be complicated or cost you a small fortune. Children really enjoy being with their friends and playing fun games together, so don't put too much pressure on yourself for it to be perfect. 
Musical Statues
Use your phone to play music or take a mini speaker along with you. Download or stream some party tunes and away you go! The hardest part is spotting who was still moving when you stop the music!
Treasure Hunt
Set up a simple treasure hunt around your venue or home. You don't need anything fancy and could use something your child already has. Hid 10 of their teddies or Lego figures – let your imagination go wild. Just take a photo of them all, stick the photos into a document, number each one and print out enough sheets for everyone.
Charades
No explanation is needed for this classic. All you need to prepare in advance is a pad of paper & pen and think of a few ideas of words or phrases people need to act out! You could even match the game to the theme of your party. If you don't want it to drag out, use the timer on your phone for each player.
Pass the balloon

Simply blow up a balloon and get the kids in a row then get them to pass the balloon from under their chin to one another without using their hands. Use two balloons, split the kids into two groups and have a race!
Pinata
These always seem to go down very well at parties but do need quite a bit of supervision to make sure the children take turns and nothing but the Pinata gets whacked! Maybe not for the faint-hearted.
Pass the Parcel
Another one that needs no explanation! You can add to the fun by having more than one parcel or simply fill a zip-up bag with treats if you don't have time to wrap or don't want to waste lots of paper.
---
Party Food Ideas 🍕

At most organised parties where you pay for a full package, party food will be included. However, if you need to take your own party food or are having a DIY party here are some tips and ideas.  
Keep the food simple, the kids won't be expecting a gourmet meal 😂
Ask your party guests if they have any special dietary requirements first
If you are having a large party, you might want to provide the meals in a box so you can do all the preparation in advance and just hand out the boxes on the day
Go for food you know the kids will love and don't worry too much about it being super healthy!

Sausage rolls
Pizza
Sandwiches
Cheese straws
Crisps or popcorn
Vegetable sticks
Fruit kebabs
Fairy cakes
Biscuits

You could always make the food preparation part of the party and gets the kids to decorate their own pizzas or fill their own wraps from a choice of fillings
You can order platters of sandwiches and party food from most supermarkets as long as you order it in advance.
Finally, if you don't want to make the food yourself there is a great range of caterers listed on the Mumbler website. Most providers will organise a party food package for you and even food platters for the grown-ups.
Baba Ganoush Catering
This family business uses fresh, seasonal and local ingredients to create food perfect for your party.
With a great range of menus to choose from to suit any budget.
Exciting people not only with the food but with new ways of delivering the food to the table, our aim is to make each event a truly unique experience.
Bistro Guy
Enjoy wood-fired pizzas from Bistro Guy's vintage mobile horsebox!
Available for hire for your perfect pizza party!
Offering afternoon teas, seasonal meals, hampers and much more delivered to your door!
Free delivery to Mumbler visitors  with a code FREEDEL2022 when you checkout
Offering more than just cakes, Cakegirl Catering provides afternoon teas, sweet treats and much more!
---
Birthday Cakes 🎂
If you are not this year's star baker and don't want to make your own cake, there are lots of cake makers listed on the Mumbler website. Prices depend on the size of the cake, how you want it decorated and if you want it delivered to your venue. 
You don't need to be a great baker to create a brilliant birthday cake. Why not hack a supermarket cake?  Buy a few plain cakes and jazz them up with extra frosting (buy a few tubs of that whilst you are shopping) and cover the sides in sprinkles.
If you are having a large party, consider making or buying cupcakes instead or alongside a smaller cake. It will be easier and quicker to give them all out.
If your birthday boy or girl isn't too keen on cake, then here are some alternative suggestions:
A giant cookie
A doughnut tower
Rice Krispies cake
Whatever you do, don't forget the candles and some matches!
---
Decorations & Party Bags 🎈
From balloons to sweet treats, if you don't want to organise everything yourself, there are plenty of suppliers listed on the Mumbler website who can help you out. If you are looking for an alternative to the usual party bags fillers or want something more eco-friendly and useful, check out our list below. 
A book, perhaps with a handwritten message inside or thank you sticker
Do some simple crafts at your party so the guests can take them home
A packet of seeds to plant & grow
Set up a pick & mix stand with paper bags and let kids help themselves at the end of the party
Or why not hire your party decorations from Pass the Party?
Pass the Party is a not-for-profit community group hiring out party tableware and decorations in an effort to reduce party waste.
Their party kits contain everything you need for a fun-filled party; with the choice of either pastel or bright kits available for 15 or 30 guests! Additionally, we have a range of themed backdrops and cake tins available for hire.
Prices start from only £3!
---
Ideas for kids birthday parties at home 🏠
Birthday parties are always discussed a lot in the  York Mumbler Chat Group. We've highlighted some of the brilliant ideas and birthday parties you can create for your children at home!
🌟Build a den🌟
"Make a den with chairs and blankets, indoor fairy lights, decorate it all inside with pictures, cushions, toys. I've yet to meet a person or adult of any age who doesn't love crawling into a den. Play music in there, games."
Mumbler HD, April 2020
🌟Set up a birthday present treasure hunt🌟
"Birthday treasure hunt with a present hidden in every room! Have easy clues (could make them rhyme eg There's a special present you could find, search for a bear & look behind!).  Spend time searching & building excitement, should make them giggle & fill the time!"

Mumbler SP, April 2020
🌟Create new birthday traditions🌟
"Maybe start some birthday traditions? Special PJ's the night before, a birthday breakfast, making the cake together… could start something for years to come."

Mumbler KB, April 2020  
🌟Get your party frocks on🌟
"All get dressed up in your party dresses and have a party tea."

Mumbler RH, April 2020  
🌟Include all the birthday party trimmings!🌟
"We had a party the other day for my sons 6th birthday. It was just the family who live here but we had balloons and cake and then we made sweets, gummy bears and candy floss. We had party bags as well just for us! He loved it."

Mumbler SH, April 2020  

"We decorated the house with banners and balloons and most people had managed to post cards and presents so he had plenty to open…We played pass the parcel, musical statues and bumps, Jenga and the chocolate game (putting on hat, scarf and gloves and then you have to try and cut a piece of chocolate with a knife and fork). We managed to get all his grandparents on Zoom to sing happy birthday too."

Mumbler MW, April 2020
🌟Set up a cinema or disco 🌟
"I decorated the front room loads of balloon and banners. We had a lazy morning face timing/phoning family members up then we got dressed went to 'the salon' hair/make up and nails. We had party food picnic then went to 'the cinema' watched a film with sweets and pop corn then later on we ended the day with a disco. She really enjoyed it and said it was her best day ever!"

Mumbler LM, April 2020
🌟Ask your family to record messages🌟
"I've asked his friends and family to record a little happy birthday message and I'm going to compile them all together so he has a little video to watch in the morning!"

Mumbler EN, April 2020
🌟Have a home cinema night🌟
"I've decided in the evening to do a movie night, printed out tickets, got popcorn buckets, lots of his favourite sweets,  trying to make it extra special. During the day he asked if we could bake and decorate his cake together! We're going to facetime his friends and family on houseparty app while we do candles on the cake too."

Mumbler CRN, April 2020
🌟Have a garden party🌟
"We put up a gazebo in the garden and had a bbq. We played games made out of recycling (bowling using plastic bottles, tin can alley). We also made a piñata from scratch which my little girl loved. I also asked friends and family to send cards, if they could. I then hid them so she had a huge pile showing her that people where thinking of her on her birthday."

Mumbler EC, April 2020
🌟Enjoy an online Escape Room🌟
With Escape Rooms for You enjoy hosting your very own Escape Room Party at home! There are puzzles to find and solve and finally unlock the room to escape. You will have your own real-life dedicated host throughout the game who will explain how to play.  Get 25% discount off the virtual escape room with Mumbler! Simply enter the discount code Mumblerat checkout to get 25% off and book to play for £45.
---
🥳🥳🥳 We hope you found our Birthday Party Guide helpful for planning a kids birthday party in York. 
Whatever you decide to do, we hope you have a brilliant and memorable birthday party. 🥳🥳🥳